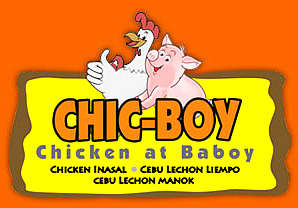 A while ago, mom and I together with our friend
Ate
Jen had our lunch at ChicBoy (short for Chicken and
Baboy
). Good thing
ChicBoy
offers unlimited rice (for only 99php) and bottomless iced tea (25 php) so we could chat for a long period of time. 3 cups of rice, I'm done. So far, the conversation was going well.
First, mom tell us about her experience joining the 505th SAR Training. She said she was about my weight when she joined the rescue team. Lots of trainings plus sidelines plus getting her masteral degree plus being a mother to us! That's a tough job, I know! But in the end, her point is this: I MUST be strong like her and MUST finished every tests. Also, she told us to watch what we eat and monitor our cholesterol level. A good diet plus proper exercise is a MUST.
They talked about being a rescuer and how complicated it is to save one's life. Mom said, "One must have discipline when she/ he claims she/he is a rescuer." I definitely agreed with her. But wait. I just realized, I'm on a Search and RESCUE Training. Does that mean we have now the responsibility to act when someone needs our help? Oh! Poor me, I never thought of it before even I filled out the SAR forms. OK, the damage has been done. There's no turning back now.LOL The only thing I can do is be good at it and accept the duty with a smiling face. not that sarcastic one. hehehe :)
Next thing; whenever my mom trained people, she always tell this to them, "Handle the victim with Tender, Love and Care". I remember myself performing CPR to the dummy named "Rescusi Ann". I watched the video and swear my actions were so mean to her. If that dummy can shout, I bet she already shouted at my face. LOL :) Mom explained what she meant by "Handle the victim with Tender, Love and Care". She said that LIFE is a precious GIFT from God. So as rescuers (and the Medical Team), they are entrusted with so much responsibility. As a rescuer, you have to be very careful to do what has to be done first and do no further harm. Because it is in their hands that one may survives or not.But ofcourse it's the Lord that gives the final verdict.
I'm amazed by what our simple meal turned out to be. It went from a simple life stories to being a rescuer to saving one's life. It's good to hear them talk. I love listening to people (especially women) older than me. I get a lot of lessons from them. Thank God for the great opportunity.
Godbless us all!